Debra and I visited Biloxi, Miss., this week. While she was at the VA, being put through her paces, I drove along US 98 along the shoreline where the casinos used to be (they have moved, and the ruins of their former pre-Katrina locations remain) and stopped in at the
Ohr-O'Keefe Museum of Art
, drawn in by the beautiful architecture (designed by
Frank Gehry
).
Named for George Ohr, "the mad potter of Biloxi," (1857-1918), the museum is much more than just his work. It has his ceramics as well as centers for African American art, a reconstruction of a historic house destroyed by Katrina, and other special exhibits. (Entrance was $10, and the exhibits weren't staffed at the time I visited, so I just stayed to the freebies.) In the main lobby, I viewed the work of Trailer McQuilkin (incredible sculptures of delicate and endangered plants that he made from thin sheets of copper.
You should check these out.
)
I looked at a small exhibit of ceramics that showed some of the historic pieces unearthed in the area, visited the gift shop, had a coffee in the cafe, then took the elevator to the roof overlook. These images below were taken from the overlook across the campus of several buildings.
Next, I descended the winding exterior stairs into a grove of oaks, passed the various "pods" and went to the sidewalk along US 98 to get another shot of the grounds.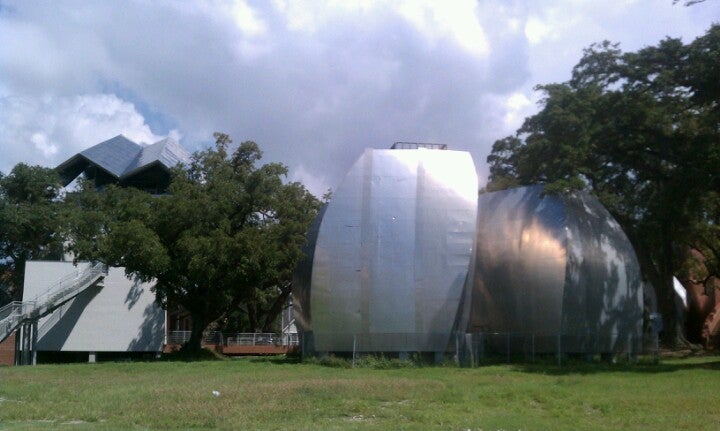 Here's another view of the silvery pods showing what appears to be some damage from a fallen oak limb to the one on the right:
Anyway, I really liked hanging out at this place, passing the time.
Obviously, still under construction, but for a moment it was like strolling through the future. I'm hoping that's a metaphor for something.
Peace
.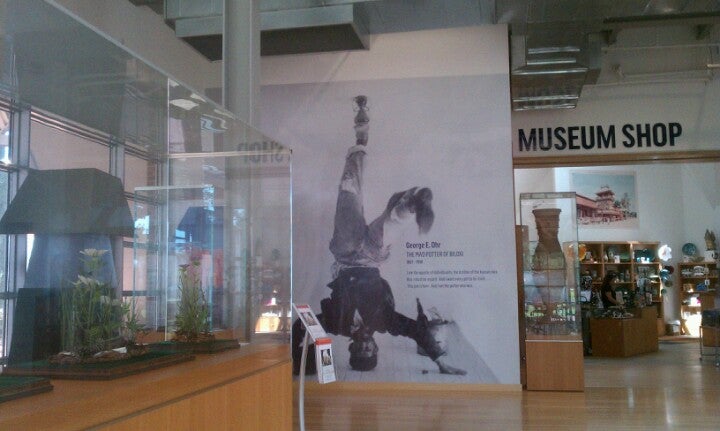 (The quote on the wall reads: "I am the apostle of individuality, the brother of the human race. But I must be myself. And I want every pot to be itself. This pot is here. And I am the potter who was.")