(Once upon a time, I did a telephone interview with Denise Crosby, best known to geeks as Tasha Yar, the ill-fated security chief in the first season of Star Trek: The Next Generation. She was coming to Panama City for one of the small conventions we had here in the 1990s, but she had a health issue and had to cancel. The following article, which ran with an info box with all the convention details, appeared on the Entertainment pages in the back of the B section of The News Herald on Saturday, Feb. 10, 1996.)
'Trek's' Tasha Yar to appear at Bay Point convention
From TrekDoc.com
In science fiction, dead is not dead. Just ask Denise Crosby, who originated the role of Security Chief Tasha Yar on
Star Trek: The Next Generation
.
When Crosby wanted out of the popular show, Executive Producer Gene Roddenberry decided to do something that had never been done to a
Star Trek
officer before.
(Sure, the guys in the red shirts always got zapped. Security has alweays been a dangerous job on
Trek
. But a headlining star?)
"It would be absolutely shocking and dramatic," Crosby said during a telephone interview from her California home last week. "And we agreed upon that."
Roddenberry assured her that "Dead is dead. There's no coming back." But the creator of the
Star Trek
franchise -- at that time still the master of his characters' fates -- was proven wrong.
"It's amazing. By doing that, I sort of rose to a cult status," Crosby said. "I was the great enigma of the show in that I chose to leave."
Crosby said she was fortunate to have known and worked with Roddenberry, whose imaginative creation has fallen into other hands since his death. And while she respects the people involved in recent
Trek
efforts, she feels the legacy has lost something without its creator's guidance.
"This was Gene's. It was more than just somebody sitting in an office and designing a TV show," she said. "This was a man's point of view, a philosophy. He has something to say, and that's what people are responding to. It's a very definitive philosophy about science fiction, about the future and mankind."
After leaving
Trek
, Crosby more than kept busy. She costarred in the Stephen King movie
Pet Sematery
, starred with Fisher Stevens in Fox TV's
Key West
as Mayor Chancy Caldwell, and began a continuing role on ABC's
Lois and Clark
.
She also appeared in several more movies and TV shows, including
48 Hours, Desert Hearts, The Red Shoes Diary
, and
The Flash
. She recently returned to the stage in the award-winning
Last Summer at Bluefish Cove
, and reteamed with director Mary Lambert on a Fox TV pilot called
Love is Strange
, in which she plays a ghost.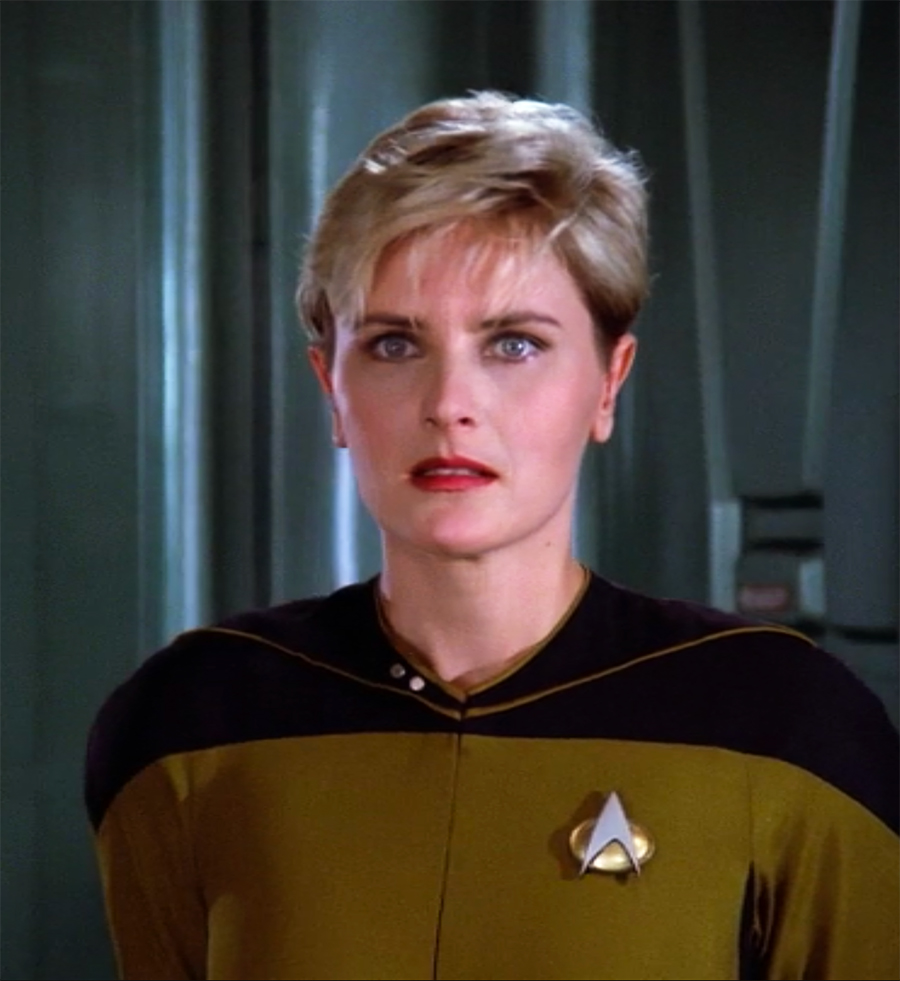 From MemoryAlpha.com
But as busy as her post-
Trek
life became, the specter of Tasha Yar continued to haunt her.
Two years after Yar's "death," the new
Trek
producer, Rick Berman, called her with a proposition: a time travel episode would revive Yar only to send her to another dramatic and heroic death.
"For me, Yesterday's Enterprise was so much fun to do," she said. "It was my first time to see everyone again. I could see where the tension was, where things had developed, people had grown into their parts. It also gave me a chance to work with Whoopie (Goldberg, who had taken the recurring part of the ageless bartender Guinan shortly after Yar's untimely departure)."
The show left Yar vanishing into a vortex, destined to die along with the crew of a time-lost
Enterprise
in battle with Romulans. But, as Crosby describes it, the ending created a new opening for her return:
"My idea was that, because of Yesterday's Enterprise, Tasha went back into history. What if she was pregnant? The Romulans captured her, kept her alive and raised the child to study it or have it as a hostage? What are the ramifications of a human child growing up with the enemy?"
So she boldly called the producers, asked for a story meeting and pitched the idea like any TV writer would.
"A couple of months later, they went with it, but they wanted the child to be half-Romulan. I thought I would get through the show without the makeup, the prosthetics," Crosby said.
Thus was born the Romulan Sela -- and the second action figure modeled after Crosby's likeness. All of which put a unique spin on her personal view of her career.
"When I was first in drama school, reading everything, watching every movie, like a sponge absorbing everything, I never thought I'd have an action figure (modeled after me)," she said. "I don't think Meryl Streep has an action figure."