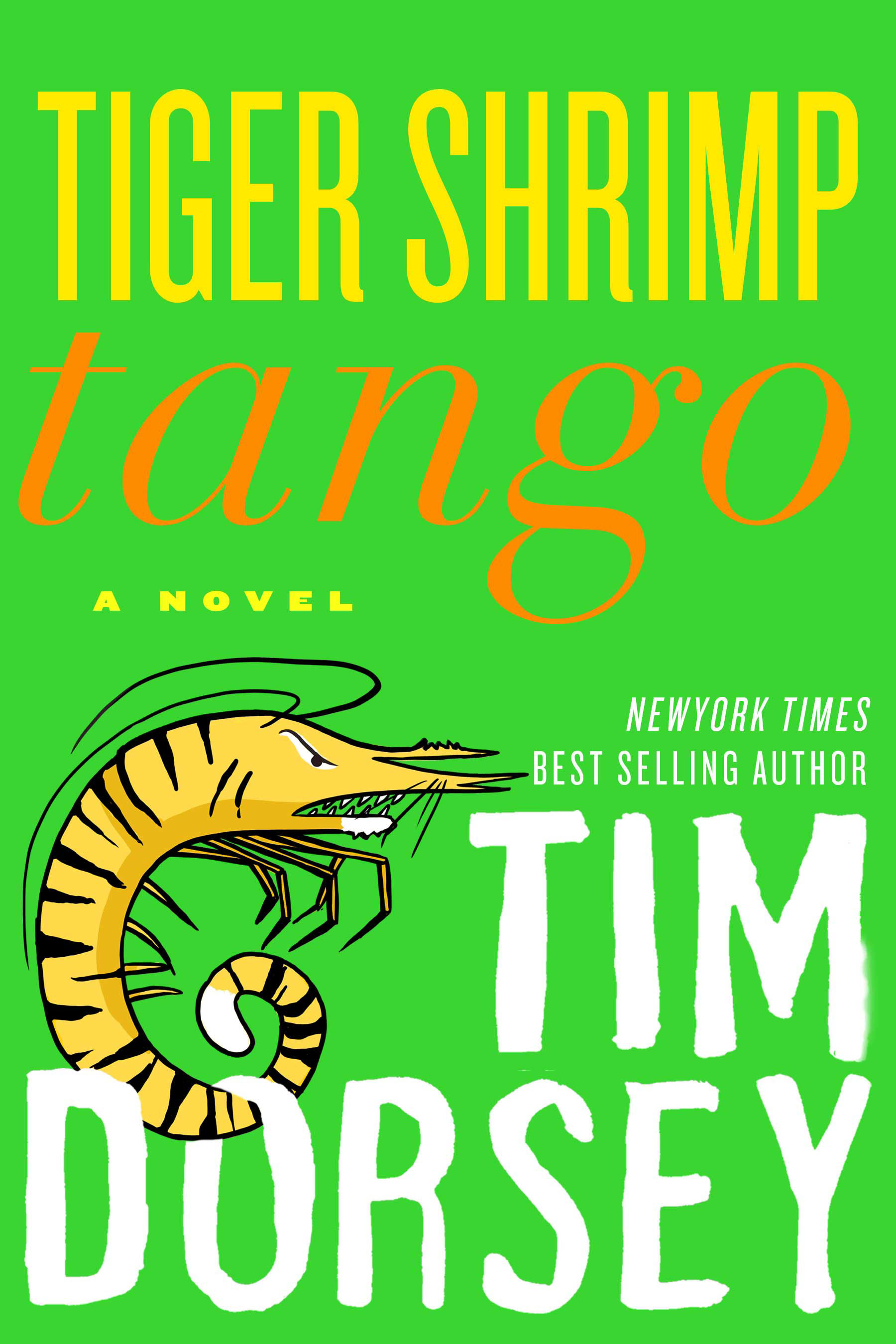 Tim Dorsey
has a new book hitting the stands today, the latest misadventure of his homocidal protagonist Serge Storms: "Tiger Shrimp Tango." (
Read an excerpt here.
)
I first met Tim 12 years ago at
BooksAlive
, where his reading and storytelling amused me and made my son laugh hysterically. We've been fans ever since.
I got to write a feature article about Tim that same month, and here it is in case you missed it (from
The News Herald
, February 2002):
STRANGER IN PARADISE:
Tampa author Tim Dorsey loves his wacky home state
... They entered Bay County and came to Panama City, spring break territory. Jethro eyed the motel balconies. "Life has a cruel way of taking the youngest and the brightest." The balconies were enclosed in bars and cages to prevent the brightest from falling on their heads. ...
- Excerpt from Hammerhead Ranch Motel by Tim Dorsey
Tim Dorsey considers himself a Florida native, which he maintains is a good thing despite the way he depicts Floridians in his "tropical noir" novels.
"My parents moved to a place close to West Palm Beach when I was 1 year old," Dorsey said. "I was at a reading once and somebody asked if I was a native; I said, 'Well, yes,' and somebody who had read my bio called me on it."
Having spent most of his 40 years in the Sunshine State - he left, briefly, to earn a degree from Auburn University in the state next door - Dorsey understands the pride factor of being a native.
"The way I feel about it, if I can't claim this then I'm a man without a state," he said. "I am very proud of being from Florida, or at least for the years I've lived here."
Born in Indiana, Dorsey grew up in Riviera Beach, a small town about an hour north of Miami. He now lives with his wife and two daughters in Tampa, where he makes his living - and is building a reputation - as a writer of wacky crime novels set in the Sunshine State.
Florida has a reputation across the country as an oddball state, though probably not on a par with California. Dorsey takes that oddity to an extreme in his novels,
Florida Road Kill, Hammerhead Ranch Motel, Orange Crush
and the upcoming
Triggerfish Twist.
"The noir part of it is a proud reveling in it, like tattooing yourself up," Dorsey said. "When my children were born, the craziness in the newspapers started to worry me or make me angry, and we asked ourselves, 'Are we crazy to stay here? Can we raise kids here?' But every time we leave the state, we're so happy to get back - it looks so beautiful."
Popularized in the works of South Florida writers such as Elmore Leonard and Carl Hiassen, the so-called "Florida genre" now has a following worldwide. However, in-state readers generally perceive it to be non-fiction, Dorsey said.
"If you have a feel for Florida, you can't top reality," he said.
One example: When Dorsey turned in his manuscript for
Orange Crush
- a book about "dirtbags running for political office," he said - his publisher told him no one would be interested in Florida politics.
Then the great election debacle of 2000 erupted, and as one might suspect,
Orange Crush
's depiction of the backroom deals between Big Sugar, Big Tobacco and Big Government did well.
"I do it as a caricature, but the point is that it represents something much closer to reality than you might see written elsewhere," Dorsey said. "I think we as a society have lost our outrage factor. We sort of accept a lot of that stuff. When I was reporting there, either figuratively or literally my jaw was hanging open the whole time."
Dorsey with my writing group on a recent tour stop in PC.
Dorsey is a former police and court reporter, general assignments reporter, political reporter and copy desk editor for several newspapers. He covered Tallahassee for
The Tampa Tribune
, where he later served as night metro editor and news coordinator. He left that position in 1999 to write novels full time.
Not bad for a guy with a bachelor's degree in transportation.
"I have no idea what that degree is about," he said. "That was a classic case of me being Tim Dorsey and just screwing up my credits really badly."
Dorsey graduated from Auburn in 1983 after spending time in the engineering, business and journalism programs and working for the student newspaper,
The Plainsman
.
"All this time, I was working on the paper because I dreamed of writing a book, but I figured I've got to do something responsible for a living," he said. "Writing books, it's just not responsible to chase it - no, seriously."
Dorsey admired the work of novelists who had come out of journalism backgrounds, but when he examined his credits he realized it would take a couple more years to earn a journalism degree. That wouldn't do. The quickest alternative was to take a few more classes and settle for transportation - whatever that was.
"The head of the journalism department said, 'What the hell is Tim Dorsey doing in transportation?' while I was (editor of
The Plainsman
)," he said. "I probably had the lowest GPA of anybody who didn't go below a 'C.'"
His schizoid college experience reflects Dorsey's take on the divided nature of his home state. Some Floridians think the state has at least two distinct personalities; Dorsey thinks the number is closer to nine.
"Florida could easily be a nation unto itself, or a couple of nations," he said. "If you go to a beach bar in Jacksonville, you'll see pictures on the wall of Vince Dooley and Bear Bryant, and you know this isn't Miami Beach. But don't get me wrong - I love Miami. I love the downtown area where everybody's speaking Spanish. I like variety."
Dorsey even revels in his inadequacies as a translator. On one Miami trip, he felt pretty good about himself when he ordered a meal in Spanish with all the right accentuations in all the right places. The waitress smiled and replied with a fluency that left him flustered and admitting he couldn't understand her.
"But that was great," he said.
In preparation for writing, Dorsey travels the state like a movie location scout. He takes notes and photographs possible sites to use in a plot, then refers to the material later for detail.
His debut effort,
Florida Road Kill
, started out as more of a travelogue. Dorsey thought he'd revisit some of the strange roadside attractions that had filled the state in the pre-Disney era - places his family visited when he was a child.
"I love Florida cheese," he said. "Weeki Wachee, Cypress Gardens, all those mom-and-pop motels that were out there before all the chains. They were great. But somebody said, 'Make it a mystery. It'll sell better.'"
The result was a story of "dirtbags on a crime spree," Dorsey said. The lead dirtbag was Serge A. Storms, "a loveable serial killer, the character you hate to love."
Visitors to his Web site can see some of his photos of real-life places and events described in the books; read the first chapters of each of the books; view the book covers as they appeared in other countries; and see photos he took at readings and signings.
The site also features a glimpse into a wooden box in which Serge keeps his treasures. Click on the box, and your computer screen will fill with items such as swizzle sticks, buttons, matchbooks and postcards from across the state.
"Serge is, well - he loves to collect mementos of his favorite Florida places, and when he's in a motel room he'll get out his box and spread the stuff out on the mattress," Dorsey said. "It's just to show how insane he is. He's obsessive-compulsive about his passion for Florida."
It's a passion this pseudo-native shares. Dorsey recalls childhood days spent running around Riviera Beach barefoot with a fishing pole, and cracking open coconuts for the milk.
"I remember all that vividly - the palm trees, taking coconuts and thinking I could run away and live off the land," he said.
"It might be that I was imprinted at a young age, but usually you see people either return to or stay in the place they came from. For me, growing up, it was paradise. It was my Huck Finn's Mississippi."